Dog dental chews are a great way of helping keep your dog's teeth clean. With so many products available the following are 6 quick points to consider when next in the dog treat aisle choosing a dental chew for your dog. Following these tips will ensure you choose a chew that is tasty and safe but one that is the most effective at removing plaque and tartar whilst helping to keep their breath fresh:
1. Look at the ingredients:
Ensure that an edible dental chew contains high-quality natural ingredients to promote the health and wellbeing for your dog as well as keep their teeth clean. The back of a dental chews pack will often highlight if a brand contains non-GMO ingredients as well as show the ingredient list in order of most abundant to the smallest ingredient inclusions.
Look for ingredients you recognise like potatoes or chicken
Avoid non-specific ingredients like 'meat meal' or generic 'cereals.' These open ingredient descriptors don't give you visibility as to the source of that ingredient, meaning they may change from batch to batch and may be of inferior quality.
2. Where is it made?
Knowing where your dog's dental treats are made gives assurance on the level quality and safety involved in making a chew that your dog will eat. At North American and European manufacturing sites, companies must meet very strict industry standards that ensure the highest quality chews are available to your pet. If Australian-made, always ensure that the manufacturer is a member of the PFIAA, as regulatory controls are not strictly enforced in Australia, but members of this body commit to complying with the voluntary Australian Standard AS-5812 for Manufacturing and Marketing of Pet Food. In other manufacturing locations such as China or Thailand, these industry controls may be missing and create a chew with lower quality standards.
3. Have sensitivities? Avoid common allergens:
Less is more. Some dogs suffer with sensitivities to certain foods or they may occasionally get an upset tummy after eating certain products. For these dogs it's helpful to choose a product with limited ingredients (LID) or a short ingredient list. LID chews don't include potential allergen ingredients like beef, dairy, chicken wheat or soy. A gluten-free, vegetarian dental chew is often a great solution for food-sensitive dogs.
4. Scientifically proven:
The overall efficacy of dental chews varies. Look for a chew proven to promote dental health, such as one with the Veterinary Oral Heath Council (VOHC) Seal of Acceptance.The VOHC ensures products that make the list have met their high scientific standards for proving reduction of plaque and tartar.
WHIMZEES® Dental Chews have undertaken substantial scientific studies with both Toothbrushes and Brushzees and these have been accepted for both VOHC Plaque and VOHC Tartar reductions, making these a good choice for effective dental chews for dogs.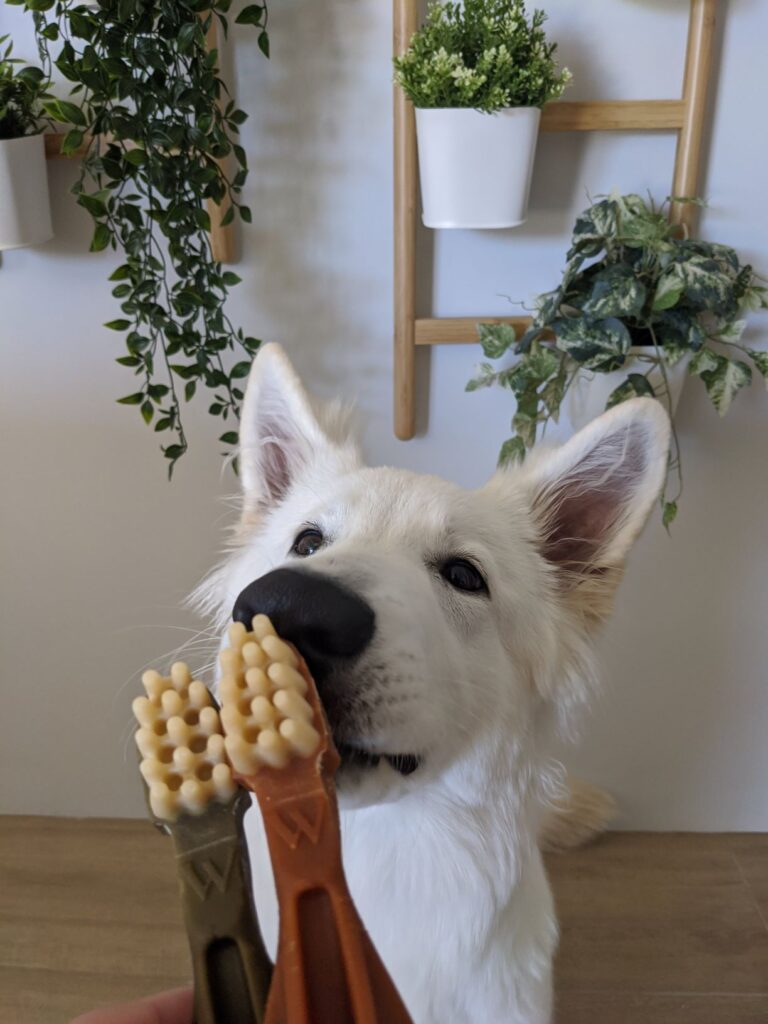 5. Right size chew:
Why? Choosing the proper size dog dental chew ensures the chew has the correct amount of calories for your dog. Dog dental chews should also match your dog's mouth size. This ensures optimal cleaning and minimises the chance of your dog swallowing a large piece that could cause stomach upset.
6. Daily use is key to success:
Plaque can accumulate in as little as 24 hours so just like us, it's important to support your dog's teeth with a dental chew every day to keep their teeth healthy. A chew that tastes great and comes in a larger value bag is a great way of ensuring your dog looks forward to his daily dental chew as well as be the most economical solution.