Celebrated every August in Australia, National Pet Dental Health Month was created to highlight how important oral health is to overall health, happiness and wellbeing of your pet. If you don't brush your pet's teeth every day, you're not alone. It's estimated that only 2% of dog owners brush their dog's teeth on daily despite recommendations from veterinarians to do so. As a result, supplemental dog dental chews that are proven effective in fighting plaque and controlling tartar become an important part of a dog's daily routine.
Why is Doggy Dental Care So Important?
Effective dental care is as critical for dogs as it is for humans. Neglecting oral hygiene in dogs can lead to issues like tartar build up, gum disease, bad breath and other larger health issues like heart disease, liver disease and kidney disease.
When Do Dental Problems Start?
Periodontal disease, a gum disease caused by plaque and tartar buildup, is the most common dental condition for dogs, with 80% exhibiting evidence of the disease by age 3.
How to Prevent Dental Health Issues in Dogs
When it comes to dental health care in dogs, offense is the best defense. Brushing your dog's teeth and providing a daily dog dental chew are great ways to reduce plaque and tartar accumulation.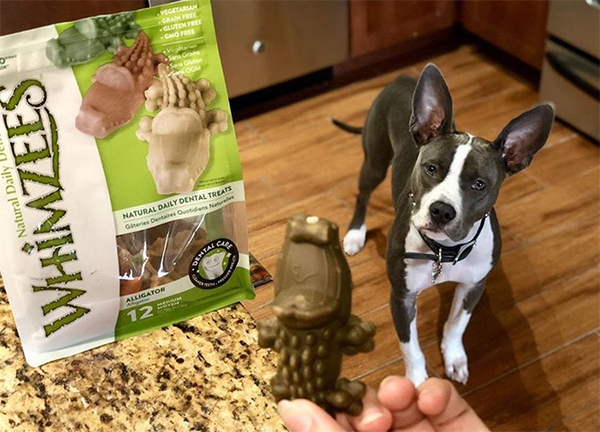 While dog dental chews are not a replacement for teeth brushing, they are an easy, fun, delicious option to help care for your dog's oral health on a daily basis. Dog dental chews like WHIMZEES® allow you to give your dog a treat that you can feel great about because your dog love the taste and chewing experience, and you'll love knowing that you're doing something beneficial for your dog's oral health.
How to Choose the Right Dental Chew
When looking at dental chews, evaluate them in the same ways you would your dog's food. Look at ingredients and look at efficacy. Look for a chew made with all natural, limited ingredients – like WHIMZEES®!
WHIMZEES® are limited ingredient, all natural, and Non-GMO Project Verified, so they're great for dogs with ingredient sensitivities. They are also gluten-free and contain no artificial colours, flavours, or preservatives.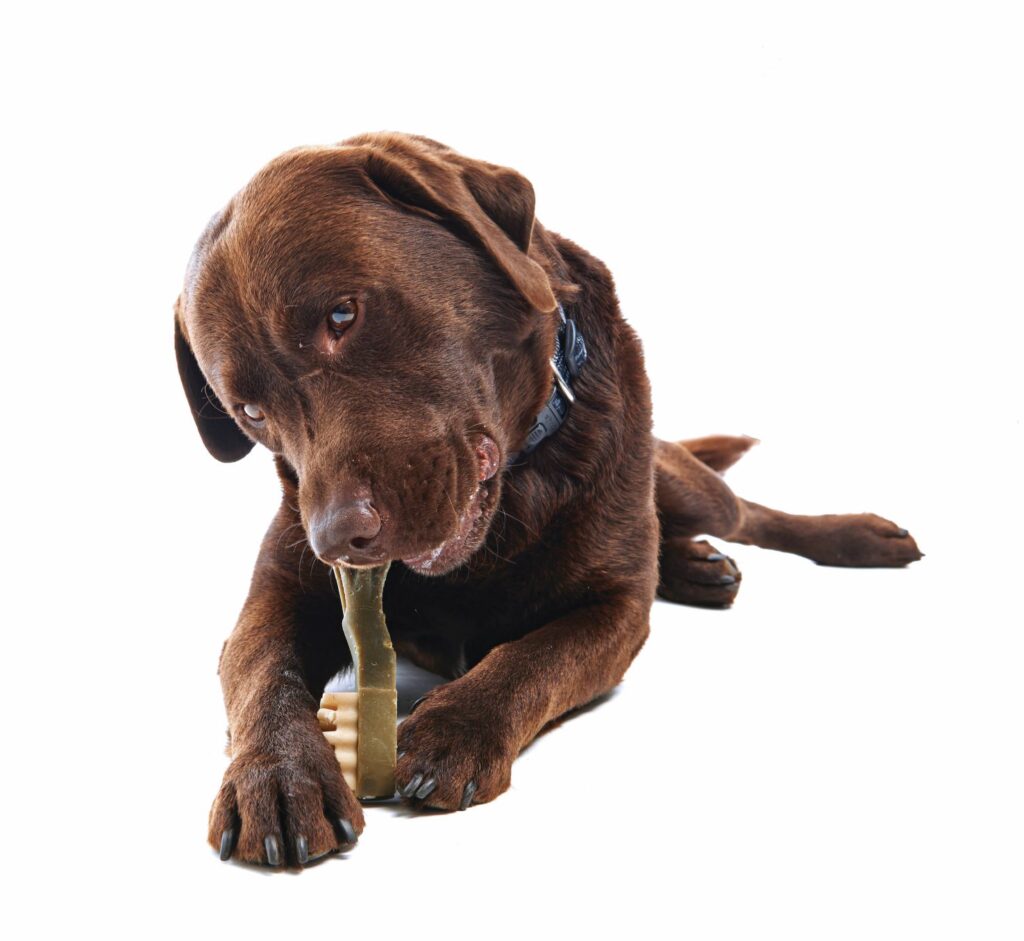 In terms of efficacy, look for a dental chew with scientifically proven claims.  Based on a study at an independent kennel, WHIMZEES® are 2X more effective at reducing plaque than leading competitors*, with a 3X longer chew time. Now those are numbers you can feel good about!
A good tip is to look for a dental chew which carries a VOHC seal of acceptance for plaque and tartar reduction as you know that these products have carried out studies to confirm their effectiveness.
While daily brushing is best for your dog, a daily dental chew is the next best thing. Bringing a daily dental chew into your dog's life and making oral care a priority will not only allow you to further bond with your dog, but will also allow you to keep them happy and healthy. Not all pet foods are created equally, and the same applies to dog dental chews. WHIMZEES® All Natural Daily Dental Chews are a fun, easy, effective way to care for your dog's teeth, breath and gums every day.
*Based on studies of comparable products conducted by an independent kennel ('17-'19).